×
Please make sure that you use and view the correct website:
Results
Article No: 12013000
Cambridge Tablet messenger bag. Exclusive design tablet messenger with vintage good looks and intelligent design to house your modern devices. Main compartment is padded and designed specifically to hold your iPad or other tablet device. Unique Cambridge Collection plaid lining is visible when the flap is open. Unique Field & Co.® .™ vintage branding elements and hardware. Canvas 610 g/m? Cotton and imitation leather. Article No: 10041400
Sun Ray sunglasses - crystal lens. Retro design sunglasses with category 1 crystal lenses and matching colour frame. Compliant with EN ISO 12312-1 and UV400. PC plastic. Article No: 10428500
Luke LED torch light. Fun handheld flashlight with 4 modes on/off power switch. Provides single white LED on the front. Top part provides steady or blinking coloured LED. Batteries included. Great for parties or outdoor night time events. Plastic. Article No: 10420103
Ammo keychain light. Single white bulb. Push-button on/off switch. Metal split key ring. Battery included. PS plastic. Article No: 13427802
Push Privacy Camera Blocker. This camera blocker is perfect for protecting your digital life from hackers spying on you and avoiding scratches on the camera. Simply align to your webcam, attach and press firmly for a few seconds for a strong seal. Slide over to block/unblock camera. Does not prevent laptops from closing perfectly. Compatible with most electronic devices with camera. Plastic. Article No: 7580-04
Plastic ballpen with a rubber tip suitable for capacitive screens. With a white barrel and coloured grip, blue ink.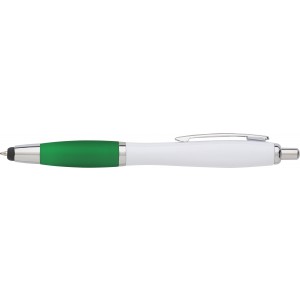 The indicated prices and product information are informative and we don't take any responsibility. Prices do not include VAT.
Reklámajándék.hu Ltd. © 1991-2019
Present Perfect reklámajándék kollekció, webáruház