Please make sure that you use and view the correct website:
Screen cleaners
Products: Screen cleaners
Article No: 8371-18
Plastic LCD screen cleaner and brush.
Article No: 7572-08
PET lens and screen cleaning spray (30ml) with microfibre cloth. The cloth can be folded into the lid of the container.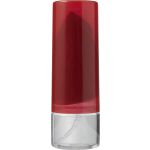 The indicated prices and product information are informative and we don't take any responsibility. Prices do not include VAT.
Reklámajándék.hu Ltd. © 1991-2023
Present Perfect reklámajándék kollekció, webáruház